We're all witnessing Russia's murderous invasion seeking to kill or subdue every Ukrainian under Putin's evil will. Empathy, prayer and social media posting are good, but not enough. Let's also turn our angst into ACTION. That's how we help Ukraine and stop the ongoing genocide. We are in a global battle for (1) democracy over dictatorship and (2) clean energy over fossil fuels. Oil and gas give Putin and other autocrats the money to fund their wars of destruction and the suppression of their own people.
ACTION ITEMS: Find what stirs your heart and get engaged. It feels SO good. And it's how we help Ukraine and change the world. #DoOneThingEveryDay #ShareThisActionPage
---
1. Experience the Powerful Spirit of the Ukrainian People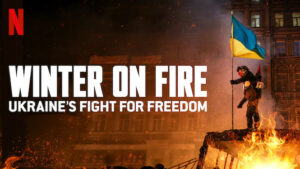 Watch the FREE documentary Winter on Fire(Netflix made it available on YouTube). In 2014, peaceful student demonstrations for closer ties to the West (and away from Russia) turned into a bloody internal uprising. The Ukrainian people ousted President Yanukovych and overthrew their government. As you watch, be inspired by their courage and drive for freedom. This same spirit emboldens their fight now against Putin's invasion and genocide. Let their spirit fuel your action on the ground to help them through this fight until they are free! Learn more about the Revolution of Dignity.
---
2. Lobby Your Government Persistently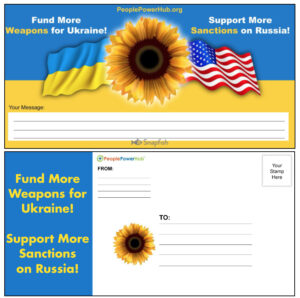 (A) Call, email and write your reps imploring them to (1) fund more weapons for Ukraine and (2) support even more sanctions against Russia. 
SAMPLE MESSAGE: I'm a constituent and urge you to fund more weapons for Ukraine and support even more sanctions against Russia. Putin's genocide and war crimes must be stopped. We can do more. Thank you.
Find Your U.S. Senator | Find Your U.S. Representative | President Biden
President Joe Biden, The White House, 1600 Pennsylvania Ave NW, Washington, DC 20500
Postcard Push Instructions. Every week, mail this postcard to President Biden, your two U.S. Senators and U.S. House Representative until Ukraine is free again. HOW TO: (1) Click on the postcard image, (2) print, (3) cut, (4) glue stick on heavier card stock, (5) write a short message and (6) mail with a stamp. VOILA! Your powerful voice for Ukraine will be heard!
(B) Follow your reps on Twitter, Facebook and Instagram and respectfully comment your support for more weapons and more sanctions. You can find their social media links at the bottom of their websites (see "Find" links above).
(C) Tag, email, text or call your family and close friends. Encourage them to lobby their reps and show them how.
---
3. Pressure Companies to Abandon Russia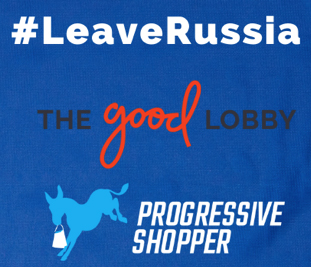 Many companies all over the world quickly exited Russia because of our moral and economic pressure. We thank them. However, some are still doing business there. Companies must suspend ALL operations in Russia. And we must keep up the pressure to ensure they DO NOT RETURN TO RUSSIA UNTIL PUTIN LEAVES UKRAINE AND PAYS WAR REPARATIONS.
(A) Track, boycott and pressure the companies still doing business in Russia using Yale's Ukraine Tracking and The Good Lobby's Ukraine Corporate Index.
(B) Use social media to call out individual companies still making blood money from Putin's murder in Ukraine.
#BoycottRussia #StrangleRussianEconomy #MakeThemStop #WarCrimes #WakeUpRussianPeople
---
4. Use Twitter to Connect & Fight for Ukraine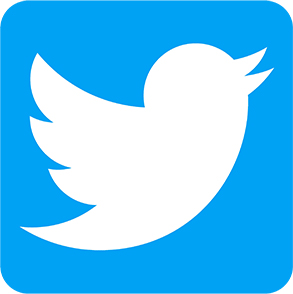 Twitter gives you the best, fastest and most direct connection to what's happening in Ukraine. And our collective viral public opinion and pressure can MAKE COMPANIES LEAVE RUSSIA, OUR GOVERNMENT SEND MORE WEAPONS AND AID TO UKRAINE AND IMPOSE EVEN MORE SANCTIONS ON RUSSIA. If you don't yet have one, sign up for a Twitter account. Then follow, comment, like and share powerful action tweets, inspiring stories and appeals coming directly from President Zelensky and others in the fight on the ground. Twitter offers one-click translation so you can read Ukrainian and Russian. Below are some of the key people and organizations we follow. #Connect #Support #Pressure
NOTE: Often, the replies from Twitter users are as insightful as the tweets from the "experts." Community power effing rocks :).
(A) Ukraine Government Officials
(B) Ukraine News Sources
(C) Journalists
(D) Analysts/Experts/Activists
---
5. Donate Money to Help Ukraine
Your money is fuel in the hands of people on the ground helping Ukraine. Donate as much and as often as you can, because this battle rages now on the frontlines and will continue through to victory, rebuilding and lasting peace.
(A) HUMANITARIAN ORGANIZATIONS. CNN and PUBLIC GOOD have vetted these organizations. "As Russian forces attack Ukraine, civilians suffer. When those affected flee their homes and seek shelter, many will rely upon humanitarian aid from charities on the ground."

(B) THE UKRAINIAN ARMED FORCES through the National Bank of Ukraine (NBU). The Ukrainian central bank opened a special account to raise funds for Ukraine's armed forces. Read as reported on Bloomberg.

(C) COME BACK ALIVE: Defending Ukraine Together. This Ukrainian organization supplies technology, training and accoutrements to save Ukrainian lives and help their fighters defend Ukraine. Their funds are NOT used to purchase arms.

---
6. Help Ukrainians More Directly
(A) Contact Local Ukrainian Churches. Google "Ukrainian churches" in your area and find their websites. Give them a call or stop by and introduce yourself. Tell them you are aghast at Putin's war against Ukraine and want to help. Their congregation will likely have direct connections and channels into Ukraine through which to help. And just offering to help will boost their morale and let them know the world is on their side.
(B) Book Airbnb Rentals in Ukraine (never planning to check in): Airbnb.com. Be "part of a creative social media campaign to funnel money to besieged Ukrainians who need financial assistance as Russian forces bombard their country and cut off services." To reach real people and avoid scammers, make sure: (1) The rental is operated by individuals, not companies and (2) "Examine the listing carefully and read reviews to make sure the host is legitimate and has been operating for some time." Read More.
In addition, Airbnb.org created a program to help Ukrainian refugees by offering stays for free or at a discount. You can also donate to help them further fund this program.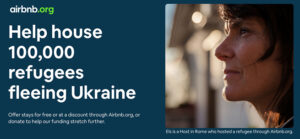 (C) Offer to Host Ukrainian Refugees. Sign up to host Ukrainian refugees fleeing Putin's genocidal war using UkraineTakeShelter.com, a match-making site created by Avi Schiffmann (@AviSchiffmann) and Marco Burstein (@Marcowaves), both students at Harvard. Most hosts live in countries bordering Ukraine, however, some offerings come from far and wide. People are sharing their spare rooms, basement apartments, resort condos, dorm rooms and more. The site is written in 12 languages and very simple to use, matching generous hosts with fleeing Ukrainians looking for temporary safety away from the horror. Read More.

(D) Engage Friends & Family Living Abroad. If you have friends or family abroad who are housing, helping or near refugee programs, you can send them money and/or goods to share with Ukrainians close at hand. For example, one family's teenage son is playing soccer for a club in Spain that has taken in a large group of young Ukrainian soccer players. The family is working with the club and through their son to send whatever these young refugees may need.
---
7. Mail Sunflower Seeds to Russian Embassies & Consulates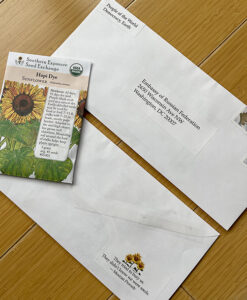 They tried to bury us. They didn't know we were seeds.
— Mexican Proverb
Mail garden packets of sunflower seeds to Russian embassies and consulates, showing outrage for their war and support for the courageous Ukrainians defending their independent homeland. Go to your local garden store for packets of seeds that fit neatly inside a regular envelope. Use a couple of stamps to cover the added bulk. We include the sunflower stickers HERE that you can print, cut and glue onto your envelopes. Below we list addresses for the United States and Canada. To find addresses for Russian embassies and consulates in your country, just Google. Remember NOT to use your name, street address or any contact info. Also, you can't mail seeds outside of your own country.
SUGGESTED RETURN ADDRESS: People of the World, Democracy, Earth
(A) Addresses for Russian Embassy and Consulates in UNITED STATES
Embassy of Russian Federation (WDC): 2650 Wisconsin Ave NW, Washington, D.C. 20007
Consular Division, Embassy of the Russian Federation (WDC): 2641 Tunlaw RD., N.W., Washington D.C. 20007
Consulate General of the Russian Federation in Houston: 1333 West Loop South, Ste.1300, Houston, TX 77027
Consulate General of the Russian Federation in New York

:

 9 East 91 St., New York, NY 10128
Consulate General of the Russian Federation in San Francisco: 2790 Green St., San Francisco, CA 94123
Consulate General of the Russian Federation in Seattle: 2323 Westin Building, 2001 6th Ave., Seattle, WA 98121
(B) Addresses for Russian Embassy and Consulates in CANADA
Embassy of Russia: 285 Charlotte St, Ottawa, ON, K1N 8L5
Russian Consulate in Ottawa: 52 Range Road, Ottawa, ON, K1N 8J5
Russian Consulate in Montreal: 3685 Avenue de Musee, Montreal, QC, H3G 2E1
Russian Consulate in Toronto: 60 Saint Clair Avenue East, Suite 500,Toronto, ON, M4T1N5
---
8. Buy Yard Signs, Buttons & T-shirts to Broadcast Support for Ukraine
Broadcast your support for Ukraine and help build community momentum for sustained global action to help Ukrainians defeat Putin and his campaign of murder and genocide.
YARD SIGNS. Buy a yard sign and post it prominently for the world to see. Heck, buy a dozen signs and offer to drive around town and plant them in the yards of your friends and family. You can also buy and ship them all across the country. Buy yard signs on Etsy.
BUTTONS. Buy a handful of buttons to wear on your lapel, purse or backpack. Or buy a bagful and pass them out to colleagues, friends and family. Find the style that best expresses your heart, be it praying for peace or expressing your outrage with justifiably strong language. BUY ON ETSY: Buttons #1 Buttons #2 Button #3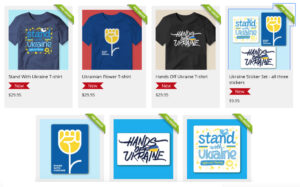 T-SHIRTS AND STICKERS. Grab a gorgeous t-shirt and make your body a walking, talking billboard in support of Ukraine. Stickers are also available. Buy at Dissent & Company.
"100% of the profits from this collection will be donated to organizations supporting Ukrainian refugees, supplying medical aid to Ukraine, and sustaining independent media in Ukraine."
— Nick Jehlen, Social Activist and Founder of Dissent & Company
---
9. Organize Your Family & Friends into Action for Ukraine
Reach out to those close to you and ask them to join you in taking action for Ukraine. We are a massive humanitarian army mobilizing in support of Ukraine against Putin's murderous war of genocide and destruction. The larger our army, the better to help Ukraine win their freedom back.
The easier you make it for others to take action for Ukraine, the better! Here are some ideas:
Contact family members, close friends, neighbors and colleagues and invite them to take specific actions with you (in person, call, text, email, direct message). Many are listed on this action page.
Buy 10 "We Stand with Ukraine" yard signs and offer to plant them in the yards of your friends, family, neighbors and colleagues. Buy yard signs on Etsy.
Have a "Winter in Ukraine" documentary watch party (wearing masks, as appropriate). Hand out Ukraine buttons, t-shirts and yard signs so they can broadcast for Ukraine, too.
Post your own actions in support of Ukraine on social media and tag friends, family and colleagues to inspire and invite them to action.
---
10. Keep Showing Up to Rallies & Events for Ukraine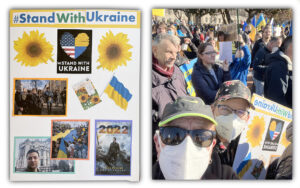 Our voices and our peaceful boots on the ground let public officials and the world know that we will not stop until Ukraine is free, Russia pays for reparations and Putin is tried and convicted of war crimes.
Follow these U.S.-based non-profits to find rallies & other actions to support Ukraine:
Razom for Ukraine 
Twitter | Facebook | Instagram | Website
Razom (means "together" in Ukrainian) is currently providing humanitarian and recovery relief based on the most urgent needs in Ukraine. The group unites Ukrainian activists throughout the U.S. and a global network of over 2,000 doctors, engineers, educators, financial experts and other professionals. "Razom was born out of the Revolution of Dignity in 2014 when millions of people worked together and risked their lives to build a pathway to a better future for Ukraine." Razom, Inc. is a 501(c)(3) non-profit.
United Help Ukraine
Twitter | Facebook | Instagram | Website
United Help Ukraine provides medical aid and humanitarian relief to brave Ukrainians defending themselves against Russia's brutal attack. It was started by a small group of people who met at a protest in Washington, D.C. after Russia invaded Crimea and the eastern regions of Ukraine in 2014. United Help Ukraine is a 501(c)(3) non-profit.
---
11. Support Russians Standing Up to Putin
Amplify the voices and actions of Russians who are courageously protesting and being arrested by Putin's police state. And don't assume all Russians in your home country support Putin and his madman war. Make sure to support allies of Ukraine no matter who they are or where they live. Here are some actions you can take:
Post articles about Russians protesting and standing up to Putin.
Open conversations with Russians you know to find out how they feel about Putin's war. You can't change another person's mind, but you can learn if someone is an ally of Ukraine or not. And then convey your feelings of support for Ukraine.
Support Russian businesses that stand with Ukraine and against Putin's genocidal war.
Almost 15,000 people have been arrested in Russia for protesting against Putin's war in Ukraine. (Source)
---
12. Find More Ways to Help Ukraine
---
Photo Credit & Sources for Opening Graphic Collage:
"Even if you are alone — you are the one who can be joined by someone. You are the most important person on the planet." – Alexei Navalny, Russian opposition leader, lawyer and anti-corruption activist (currently jailed by Putin).