With the backing of Behind The Eyes, three friends — Michelle, Peggy and LaDreda — spearheaded a children's book project to plant the seeds of citizen activism for racial, social, economic and environmental justice. Black, brown and white children all benefit from learning how to feel empathy and knowing that they hold the power to change their society. Thinking long-term, educating children will empower them in their own lives and make it better for future generations of every race, religion and orientation.
Thanks to many generous donations, we were able to share 26 picture books with a group of beautiful children at the wonderful "Reading, Rhythm and Arts" program by the Akoben Foundation in Baltimore, Maryland. The list of books was carefully curated and more can be found at The Conscious Kid Library.
If you wish to hold your own fundraiser to give a Uniting Book Bundle to a school, class or group of children near you, contact us.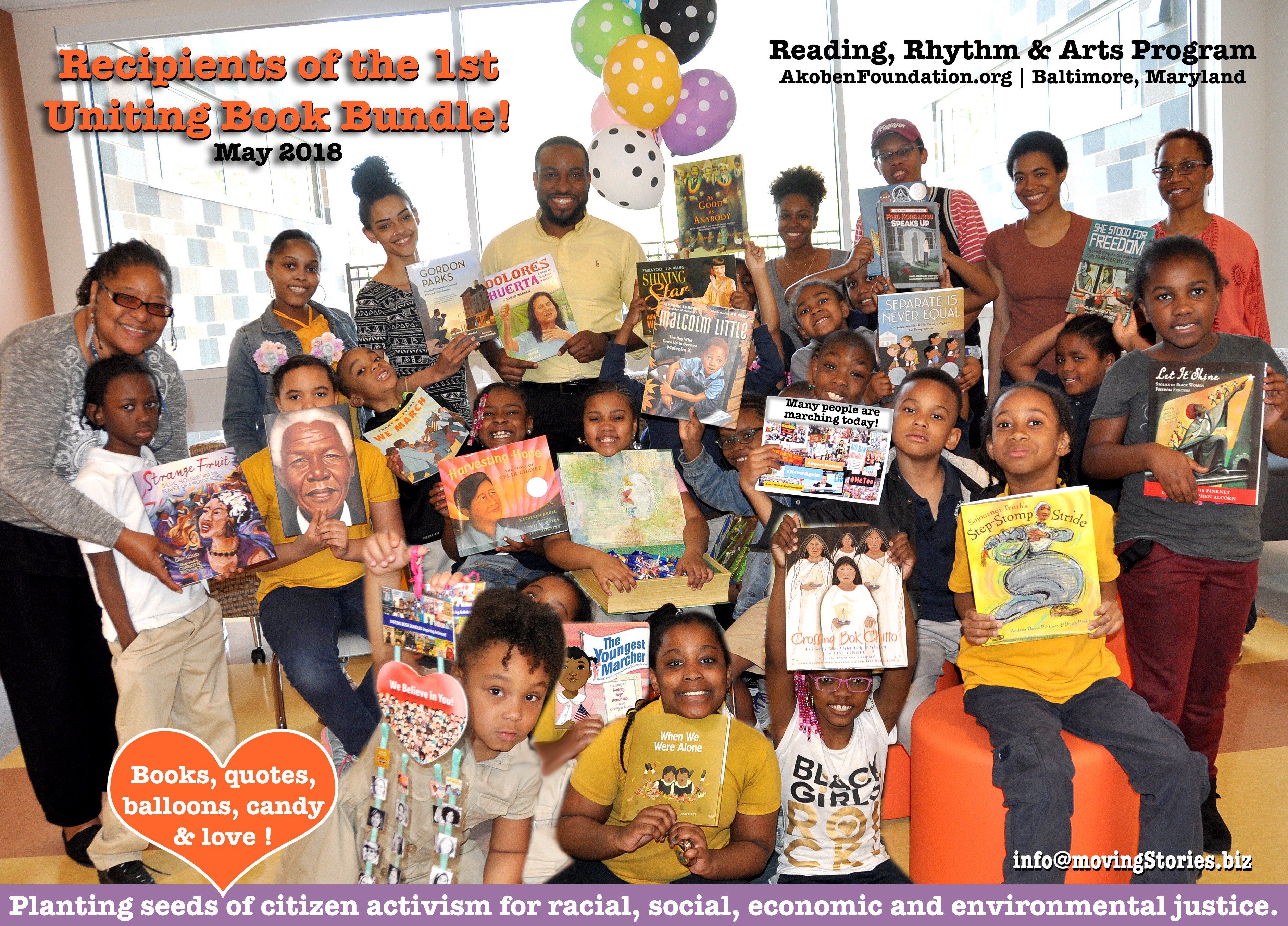 List of Fabulous Books
TITLE & AUTHOR

 

FOCUS
ESTIM. PRICE (Amazon)

AGE RANGE

Let It Shine: Stories of Black Women Freedom Fighters by Andrea Davis Pinkney

Blacks

$9.28, paperback

Ages 6 – 9

Grades 1 – 4

Separate is Never Equal: Sylvia Mendez & Her Family's Fight for Desegregation by Duncan Tonatiuh (Mexican-American)

Hispanics

$12.27, hardcover

Ages 6 – 9

Grades 1 – 4

When We Were Alone by David Robertson

Native Americans

$13.14, hardcover

Ages 4 – 8

Grades Pre-K – 3

The Youngest Marcher: The Story of Audrey Faye Hendricks, A Young Civil Rights Activist by Cynthia Levinson

Blacks

$11.98, hardcover

Ages 5 – 10

Grades K – 5

Fred Korematsu Speaks Up by Laura Atkins and Stan Yogi

Japanese

$13.96, hardcover

Ages 6 – 10

Grades 1 – 5

Strange Fruit: Billie Holiday and the Power of a Protest Song by Gary Golio

Blacks and Jews

$18.47, library binding

Ages 8 – 12

Grades 3 – 7

Crossing Bok Chitto: A Choctaw Tale of Friendship & Freedom by Tim Tingle

Native Americans

$14.65, hardcover

Ages 7 – 13

Grades 2 – 8

Malcolm Little: The Boy Who Grew Up to Become Malcolm X by Ilyasah Shabazz

Blacks

$11.18, hardcover

Ages 6 – 10

Grades 1 – 5

Preaching to the Chickens: The Story of Young John Lewis by Jabari Asim

Blacks

$14.39, hardcover

Ages 4 – 8

Grades Pre-K – 3

She Stood for Freedom: The Untold Story of a Civil Rights Hero, Joan Trumpauer Mulholland by Loki Mulholland

White allies

$14.40, hardcover

Ages 8 – 10

Grades 3 – 5

Harvesting Hope: The Story of Cesar Chavez by Kathleen Krull

Hispanics

$9.89, hardcover

Ages 4 – 7

Grades Pre-K – 2

Nelson Mandela by Kadir Nelson

Blacks

$10.98, hardcover

Ages 4 – 8

Grades Pre-K – 3

Gordon Parks: How the Photographer Captured Black and White America by Carole Boston Weatherford

Blacks

$12.90, hardcover

Ages 4 – 8

Grades Pre-K – 3

Shining Star: The Anna May Wong Story by Paula Yoo

 

Chinese

$17.95, hardcover

Ages 6 – 11

Grades 1 – 6

As Good As Anybody: Martin Luther King Jr., and Abraham Joshua Heschel's Amazing March Toward Freedom by Richard Michelson

Blacks and Jews

$7.99, paperback

Ages 6 – 9

Grades 1 – 4

We March by Shane Evans

Blacks

$6.98, paperback

Ages 2 – 7

Grades Pre-K – 2

That's Not Fair! Emma Tenayuca's Struggle for Justice by Carmen Tafolla (Mexican American)

Hispanics

$19.93, hardcover

Ages 5 – 7

Grades K – 2

Moses: When Harriet Tubman Led Her People to Freedom by Carole Boston Weatherford

Blacks

$12.96, hardcover

Ages 5 – 8

Grades K – 3

Harlem's Little Blackbird: The Story of Florence Mills by Renee Watson

Blacks

$17.97, hardcover

Ages 3 – 7

Grades Pre-K – 2

Voice of Freedom: Fannie Lou Hamer, Spirit of the Civil Rights Movement by Carole Boston Weatherford

Blacks

$14.53, hardcover

Ages 9 – 12

Grades 4 – 7

Josephine: The Dazzling Life of Josephine Baker by Patricia Hruby Powell

Blacks

$13.19, hardcover

Ages 10 – 13

Grades 4 – 8

Frederick Douglass: The Lion Who Wrote History by Walter Dean Myers

Blacks

$11.98, hardcover

Ages 6 – 10

Grades 1 – 5

Dolores Huerta: A Hero to Migrant Workers by Sarah Warren

Hispanics

$14.35, hardcover

Ages 6 – 8

Grades 1 – 3

Rosa (Parks) by Nikki Giovanni

Blacks

$12.76, hardcover

Ages 4 – 8

Grades Pre-K – 3

Sojourner Truth's Step-Stomp Stride by Andrea Davis Pinkney

Blacks

$14.78, hardcover

Ages 5 – 9

Grades K – 4

Sit-In: How Four Friends Stood Up By Sitting Down by Andrea Davis Pinkney

 

Blacks

$10.98, hardcover

Ages 7 – 10

Grades 2 – 5
As you grow older, you will discover that you have two hands, one for helping yourself, the other for helping others.
— Audrey Hepburn